Dining Experience
Sharing Meals With Friends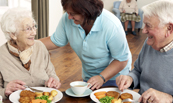 Our menu of deliciously flavorful meals is served with a big helping of friendly camaraderie. An enjoyable dining experience is a hallmark of our Fall River Jewish Home Difference.
To meet the needs and desires of residents of all faiths, we provide a wide variety of meal and snack choices, always respecting preferred religious guidelines. We maintain a kosher kitchen and food service operation under the Orthodox rabbinical supervision of Rabbi Barry David Hartman.
"Youth is a gift of nature. Age is a work of art."
How Do We Keep It Fresh?
Our Resident Food Committee is constantly reviewing our menus which are based on the feedback and suggestions of our residents. Dining experiences our residents and families enjoy include:
Monthly buffets
Themed meals
Special birthday menus
Festive holiday meals
Optional dining for family and friends
Restaurant outings
Room service for those who choose to sleep in
Dining Menus

To see a sample of our weekly Breakfast, Lunch and Dinner menus please Click Here.
We also offer a unique room service menu daily. To see the room service options please Click Here.
We also offer unique menu options during the Holiday seasons. To see a sample of our Holiday menus please Click Here.
If you'd like to learn more about the dining services at Fall River Jewish Home, reach out to us at 508.679.6172 or This email address is being protected from spambots. You need JavaScript enabled to view it. to find out more.