Activities & Events
Enjoy Life With Us!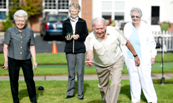 Fall River Jewish Home provides a vibrant environment where you can enjoy time with your neighbors, friends and families, no matter what your interests are.
A Variety Of Life Enriching Activities And Programs Are Provided. A Few You Can Look Forward To Include:
Bingo and other games
Wii bowling, tennis, baseball and more
Karaoke and musical entertainment
Group exercise
Art classes
Outings to restaurants, shopping, and sightseeing
Discussion groups
And much more!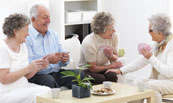 Our active Resident Council is constantly looking for new ideas for events, activities and outings. This group of residents draws their inspiration from their diverse interests and life experiences.
Curious to see what we're doing today? Check out our activities & events calendar to find out what kind of events, outings or activities we have planned. It's a great way to get involved with the Fall River active lifestyle our residents and families experience every day.