Lifestyle Activities
A Place To Celebrate The Individual Spirit
"Life is not measured by the number of breaths you take, but by the moments that take your breath away."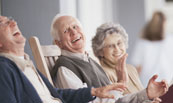 Recognizing and respecting the diverse interests of each individual is important. Fall River Jewish Home intentionally creates experiences and opportunities to enhance each resident's well-being, independence and self-esteem. Our active Resident Council participates in planning the kind of activities and meals they want to enjoy.
Your desire for living each day with meaning and purpose is important to us. Our residents and families can enjoy treasured Activities & Events, our well known Dining Experience, and a variety of Spiritual & Religious Services
Additional Lifestyle Amenities Available Include:
An extremely clean, smoke-free environment
Social gathering areas that include an indoor garden and outside patios
Satellite television and free Wi-Fi
Private telephone service connections
Personal laundry service
Hair salon and manicurist services
Pet therapy
Extensive library collection
In addition, our location is on a bus route and has easy highway access. It is conveniently located close to two hospitals and many physicians' offices.
Join us at Fall River Jewish Home and enjoy the special attention given to create and offer unique experiences every day that enhance the quality of life of each resident we serve. Contact us today at 508.679.6172 or email us to learn more.