Golden Connections: Social Activities Can Lengthen Life
Details

Published on Thursday, 13 March 2014 17:29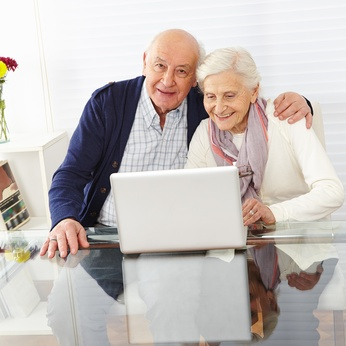 Staying connected to friends, family and the community is important at any stage in life. For seniors, it often becomes difficult to continue to do. They may have mobility issues or vision impairments that have forced them to give up driving. It might be also be harder because loved ones have moved away to pursue career opportunities in other cities. But evidence shows those who remain socially active can lengthen their life by at least 1.6 years. Social networking sites, video chat services and other online sources might just be the solution to keeping older adults connected.
Pew Internet Research Study
A study from Pew Internet Research found that adults 65 years and older are the fastest growing demographic on social networking sites. They are embracing sites like Facebook as a means to stay in touch and feel connected. Tablet devices like an iPad are popular means of connecting for older adults because they are so easy to use. The touch screen is gentler on older hands and the ability to increase the size of the text makes it easier for aging eyes to read.
Helping Seniors Connect Online
Here are a few ways you can help the older adult you love embrace internet technology:
Set them up with a free video chat service. Skype and services like it are easy and free to use. Older adults can use the webcam on their computer or their iPad. This may be the very best way feel connected because families can see each other "face to face." Long distance loved ones like video chat services for another reason. It gives them the opportunity to see their aging family member on video and assess how they are doing.

Help them set up an email account. This is another great way seniors can keep in touch. Help them set up an email account with a strong password so they don't have to be concerned about their account being hacked.

Establish a Facebook account. We all know Facebook's constantly changing privacy issues make this a little bit tougher. Our best advice is to help senior loved ones with their initial privacy settings, and then explain to them or show them what to do each time Facebook makes a change. Having a Facebook account might help them reconnect with high school or college friends they have lost touch with in recent years. Seniors might also like the games they can play for free on Facebook, including those games they can play with faraway friends. Finally, it might also provide them with opportunities to save money if they follow their favorite stores and retailers for online discounts and sales.
Are you an older adult who uses social media to stay connected?
Do you have any tips to share with others? We'd love to hear them!
We're here to answer questions and help you make the best decision for care for you or your loved one. We invite you to reach out and talk with one of our care specialists at Fall River Jewish Home today! CALL 1.508.679.6172, where assistance is just a phone call away.