Spring Activities To Do With Your Loved One Who Has Alzheimer's
Details

Published on Thursday, 07 April 2016 13:25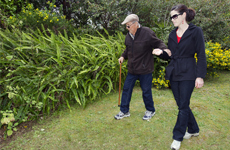 Spring is a wonderful time of year to reconnect with nature and begin a new routine with Alzheimer's patients. If you're caring for a loved one with Alzheimer's, spring can represent an opportunity to increase activities and stimulation for your loved one.
Here are 10 great spring activities you can do with a loved one who has Alzheimer's disease.
1. Dye Easter Eggs. Dying Easter eggs is a task that can bring back memories. The bright colors, smell of vinegar, and more may remind your loved one of childhood experiences – or of experiences raising his or her own children.
2. Exercise Outdoors. This includes walking or doing tai chi or yoga outdoors.
3. Attend Outdoor Concerts. This is especially beneficial for those that showcase music familiar to your loved one. Music plays an important role for stimulating memories and exercising the brain.
4. Walk Dogs/Play Fetch. Dogs, especially puppies, are a great deal of fun to walk and play with. Keep it light and friendly with small, friendly dogs (or puppies) that aren't likely to pull or frighten your loved one.
5. Hang Clean Laundry out to Dry. This uses repetitive motions that are easy for Alzheimer's patients to follow along with and the sense of smell associated with clean clothes, and the act of hanging them on a line to dry may evoke long-term memories.
6. Watch Birds. Consider adding bird baths, feeders, and houses to the property so that there are plenty of reasons for birds to visit and stick around. Spring is a great time to watch them build nests, lay eggs, and teach their young to fly.
7. Make Sun Tea. It's such a simple thing that may spark childhood memories of sitting on the porch sipping tea.
8. Blow Bubbles. It's simply fun to do and you're never too old for watching bubbles float up towards the clouds.
9. Barbecue. Assign simple tasks for your loved one to do and bring in the family for a great BBQ.
10. Attend an Antique Car Show. – Not only do these shows often play "oldies" music that will be familiar to your parent, but it will also have sights, sounds, and smells that are familiar too.
These spring activities all offer some degree of stimulation and the potential for fun for your parent with Alzheimer's disease. Some offer connections to the past while others offer connections to, and build memories about the present.
We're here to answer questions and help you make the best decision for care for you or your loved one. We invite you to reach out and talk with one of our care specialists at Fall River Jewish Home today.