Get Your Yoga On!
Details

Published on Thursday, 14 June 2012 16:01
You may have been hearing about the benefits of yoga lately – how it can keep you healthy at any age. It's quite possible that a family member or friend has suggested that you try it. However, you may feel hesitant, possibly due to your age, your physical condition or other reasons. Some people believe that because they have never tried yoga before, they would not be able to do it. Even the word "yoga" can conjure up pictures of young people in unusual contortions that are akin to a pretzel. Please be assured that yoga is not about that, but is more about gentle movements that are simultaneous with slow in and out breathing.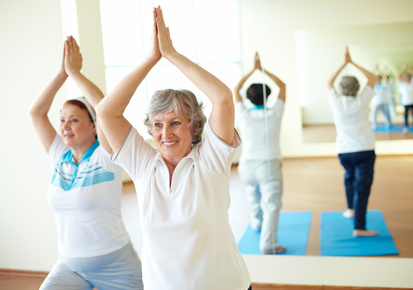 If you are still feeling hesitant, here are some benefits of doing yoga that may change your mind:
Yoga is very gentle on your body. Yes, this is true. There are many different practices of yoga, with one of the gentlest being "Hatha Yoga." Hatha Yoga includes slow-paced stretching with some simple breathing exercises, along with seated meditation. Hatha Yoga is an excellent place to learn basic poses and would is great way for you to get acquainted with it.
Yoga benefits the mind, body and soul! There are many benefits to doing yoga, some of which include increased muscle tone, balance, strength and overall improved mood. It may also increase lung capacity and improve sleep.
Yoga can add years to your life. Any type of exercise can add years to your life, it is the quality of those years that most people are interested in. Yoga not only increases your life by approximately 12 years, according to a recent study, but can allow one to live without disabilities those 12 years!
Are you persuaded that yoga may be a good thing to try? If so, let's get ready to "get your yoga on!" Here are some helpful tips:
First, consider attending a yoga class by checking out your local senior living communities, senior centers and churches – they all usually offer classes for seniors.
If you have found a class, as with any exercise, please check with your doctor first. If your doctor says all is well and you can participate, let's discuss how to prepare for your first class:
Find out what to bring or wear. Typically you will not need to bring anything, other than water. Otherwise, it is suggested that you wear comfortable clothing. Including wearing socks and tennis shoes.
Don't eat a big meal right before the class. Try eating lightly a few hours before class starts.
If you are a beginner, let your teacher know. It is important to let your teacher know that this is your first yoga class. That way he or she can provide you with special guidance.
If you decide that yoga is something you would like to try, kudos! You are taking your first important step to a healthier, happier you. Remember, you will achieve the most benefits by doing yoga a minimum of 3 times per week. Here's to a long and healthy life!
Do you know anyone that regularly attends yoga classes? Joining them would be a great idea!