The Benefits of Music Therapy for Jewish Seniors
Details

Published on Tuesday, 13 January 2015 19:08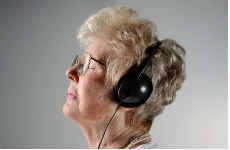 Music plays a vital role in the lives of people around the world. It is played at important events throughout your life, such as wedding ceremonies, bar mitzvahs, religious celebrations and more. Because it is played at such important moments in life, the memories music evokes are profound and often filled with emotion.
For those of Jewish faith, music is an integral part of long standing traditions, used in prayer and sung in synagogue throughout Massachusetts and the world.
With aging, though--particularly those struggling with conditions that rob memory, such as dementia and Alzheimer's disease--music plays another vital role in the treatment of their conditions. Part of the reason is that music is one of the last things people with these conditions lose.
More importantly, music re-engages parts of the brain that aren't utilized for other purposes and, as a result, remain hidden. However, one of the most important things is that music activates more than mere memory. It is a "whole brain" exercise that lights fire throughout the neural pathways of patients with impaired cognitive function.
What is Music Therapy?
Music therapy is not simply listening to music. While that in itself is an effective therapy for many people suffering from dementia, music therapy takes it a few steps further and seeks to engage and strengthen other areas of the mind and body by combining:
Sing-along

Trivia

Physical activities, such as dancing
When used appropriately, music can improve one's mood, manage agitation, improve one's ability to focus, stimulate positive interactions and coordinate motor movements. Music therapy can also bring much-needed physical and emotional closeness between the loved one and caregiver. Through music, patients often move to the beat and even dance, which can lead to touching, such as hugs and kisses.
Learning to play an instrument as part of music therapy, or even picking up an instrument played in childhood and revisiting it, is a fantastic way to exercise the brain. Playing an instrument, after all, involves visual, audio, and motor functions. Additionally, people who learned to play an instrument as a child and continued to do so for ten years or more outperformed those who did not in tests of cognitive ability as well as tests of memory.
Choosing the Right Residential, Nursing, or Respite Care Facility
If you have a loved one with cognitive function impairment, dementia or Alzheimer's disease, it's important to choose carefully when exploring long or short-term care options. Because music therapy is such an effective tool for slowing the onset and progression of the disease and its symptoms, it's important to look for facilities that offer music therapy to residents. The bigger the variety of program offerings the better, though some is certainly better than none.
Music therapy options worth exploring include:
Music trivia

Dinner music

Religious music

Drum circle

In-house concerts and performances

Concert field trips

Playing an instrument

SingFit

Sing-alongs

iPods
Ideally, you'll find a facility that offers some combination of the programs mentioned above so that your loved one enjoys a variety of options for sparking those musical memories and reaping their benefits.
For additional information, The Alzheimer's Foundation of America devotes an entire page to music therapy.
Alive Inside: A Story of Music and Memory
You can learn more about the power of music touching the lives of dementia patients by watching the award-winning documentary Alive Inside: A Story of Music and Memory. Once you see this touching film, you'll have a difficult time denying the impact of music on the mind and memory and will better understand the importance of making music therapy a priority for your loved one who is suffering from dementia.
Do you or a loved one have any experience with music therapy for Alzheimer's, dementia, or forgetfulness related to aging? Share your story in the comments below.