Dining Out With Alzheimer's
Details

Published on Wednesday, 26 March 2014 13:50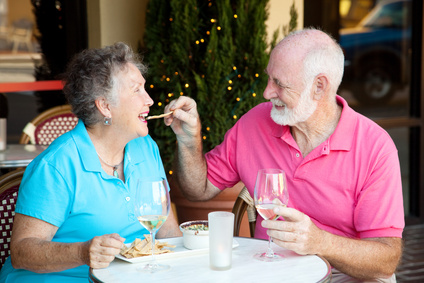 Dining out with a loved one who has Alzheimer's disease might seem like a challenging activity for families to attempt. At home, the disease requires families to be more flexible during meal times to accommodate their loved one's physical limitations and sometimes messy table manners. When you are eating in a restaurant, however, these behaviors might appear to be a little strange to other diners.
Alzheimer's disease creates challenges at meal time
Dining out can be challenging for those with Alzheimer's for many different reasons. Some of the more common ones include:
Having a tough time with the hand-eye coordination it takes to use kitchen utensils.
Physical limitations that make it hard to slide in to booth or bench seating.
Restrooms that might not accommodate their physical and mental abilities.
Agitation that is increased by a noisy background and waiting long periods of time to be seated and for food to arrive.
Wait staff that doesn't understand how to communicate with a person living with Alzheimer's or a related form of dementia.
Suggestions that can help
A night free from the hassle of cooking and cleaning up might be appealing to worn out caregivers. But when a loved one lives with Alzheimer's, restaurants can be intimidating places. Before you give up the idea of dining out, here are a few suggestions to consider that can make the evening easier on everyone:
Pick casual restaurants that are used to families with young children. They tend to be more understanding when things get messy.
Choose menu items that are finger foods your loved one with dementia can eat without utensils.
Call the restaurant ahead of time and explain the situation. They might be able to save a table in a quiet corner.
Dine out during non-peak hours. It might mean eating earlier than usual, but it can be worth it if it helps avoid long waits and excessively loud environments.
Think about putting together a "busy box" of things your loved one can do to help manage their agitation. It could be a deck of cards to sort or old photos to look through.
Hopefully these tips have given you some ideas to make a family dinner out go more smoothly for everyone.
Have we missed anything?
We'd love to hear your suggestions if we did!