What to Expect When a Loved One is in a Skilled Rehab Center
Details

Published on Wednesday, 20 July 2016 11:46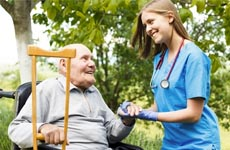 If your parent has recently recovered from an illness, surgery, or injury, it's likely that they will be needing therapy or rehab to bounce back. But what do you look out for? What should you expect out of the rehab and therapy? What is your part in the process?
3 things to be prepared for when your parent is in skilled rehab
Communication: Be ready to communicate with the therapists on the routine and plan of action for your parent. These conversations are really important and can be really helpful to make sure you're involved and have a good idea of what is going to happen through the course of your parent's therapy.

Daily Schedule: Most likely, your parent will have a daily regimen. They'll be busy, and this may cause them to be a little more tired than usual. But this schedule is important to them recovering from their wound, surgery, or illness.

Frustrations: There will be rough days for your parent. Some days they might even feel like they aren't getting better, and that will frustrate them – they might even want to give up. Just to remember to encourage them and remind them that they will be able to achieve their goals if they keep at it. Highs and lows are almost guaranteed in the recovery process. If they have a strong support system, it will be an easier journey for them.
One of the most important things you can do is to be a great support for your loved one, someone he or she can depend on during this difficult time in his or her life.
You'll also want to make sure that you have an open, friendly staff that you can trust with your parent's recovery. We think you'll find that easy relationship at Fall River Jewish Home. Our Rehab and Therapy services include:
Physical Therapy

Occupational Therapy

Speech Therapy

Pain Management

Wound Care

I.V. Therapy
If you want to learn more, call us at 508-679-6172 or contact us to find out how we can help you with your parent's rehab needs.