Helping Your Senior Keep Their Independence
Details

Published on Wednesday, 22 June 2016 23:57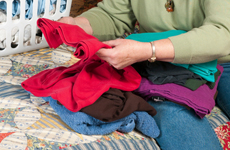 Maintaining independence to the greatest extent possible is one of the most important things for seniors today. Seniors who need some assistance with daily activities should be encouraged to do as much for themselves as they are physically capable of doing. The following steps can assist your senior loved one in doing things for him or herself for as long as possible.
Make Modifications to the Home
There are quite a few modifications you can make to the home that will provide greater mobility, maneuverability, and independence for your loved one, including the following:
Clearing out excess furniture in every room.

Adding grab bars in the bathroom, in the hall and near the bed in the bedroom.

Installing ramps.

Moving items from top to lower shelves.

Removing tripping hazards.

Making sure home is well lit.

Choosing clothes that are easy for even arthritic hands to put on and remove (and comfortable to wear all day).
Encourage Exercise
Even among seniors who aren't able to walk a mile or two each day, exercise is important. There are great videos that are easy to find online that offer low impact exercises designed specifically for seniors. Many libraries may also offer DVDs that have exercises for seniors to do at home – including many that can be done in a chair for those who are wheelchair bound.
These daily exercises can help to restore balance to the body, build muscle, and get the blood circulating to the far reaches of the body. The better seniors are able to move, the more independence they will maintain for their daily routines.
Make Small Tasks Easier for them to Accomplish
While you don't want to frustrate your loved one by offering a long list of tasks he or she feels no longer capable of doing, you can easily provide a few small tasks each day that will make your loved one feel more involved and capable.
Things like folding towels and washcloths, for instance, are simple tasks that let them feel as though they have power over their environments. Dusting, pushing a broom through the room, or even using a hand vacuum to pick up spills can all be done from a wheelchair, thanks to dusting wands and extensions.
The more you enable and encourage your loved one to do, the greater the gift of independence you are providing. These are just small steps to get you started.
If you're searching for rehabilitation and therapy care, long-term care, or respite care, give us a call here at at Fall River Jewish Home at 508.679.6172 to talk about your options.