Spousal Caregiving: Maintaining Control and Own Health
Details

Published on Wednesday, 03 June 2015 13:12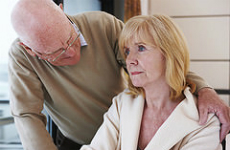 When you and your spouse were first married, you probably didn't give too much thought to what life would be like 20, 30, 40 or more years down the road. Sure, you may have pictured yourselves turning old and gray together; holding hands, taking long walks on the beach, reminiscing about the past, and playing with your grandchildren. However, the future has crept up on the two of you out of nowhere, and being old and gray together may be different than what you had originally imagined.
If your husband has become afflicted with a debilitating illness, instead of taking leisurely strolls in your Golden Years, you may have taken on the role of a caregiver. For many people, becoming a caregiver for a spouse can be a difficult role to transition into. But it doesn't have to be.
The Impact of Caring for a Spouse
Though you love your spouse more than anything in the world, being the person that he has become completely dependent on can impact you as a caregiver in these ways:
Depression – Caregivers tend to become depressed over time. As they come to the realization of their spouse's mortality, they also become aware of their own mortality. Additionally, having to provide round-the-clock care for someone who was once so self-sufficient can be very difficult to deal with.
Loneliness – Being lonely is another impact of being a caregiver for a spouse. You once enjoyed conversations and activities with your spouse, but now those conversations and activities have ceased. You may not be able to invest as much time in other relationships, which can also lead to loneliness.
Sleep deprivation – In many ways, caring for an elderly spouse is very similar to caring for a newborn baby. You could be up all hours of the night to meet your spouse's needs, which can have a real impact on your sleep.
How to Cope with Being a Caregiver
Fortunately, there are ways that you can make the most of being a caregiver for your spouse and take control of your health, both physically and mentally.
Put yourself first. Of course, you want to provide your spouse with the best care possible, and his needs are of top priority; however, you cannot provide proper care for him if you don't provide proper care for yourself. Get enough sleep. Eat healthy meals. Take time for yourself.
Ask for help. Don't be ashamed or feel bad about asking your children, friends or other relatives to help out. You may even want to consider in-home care in Fall River for your loved one. Hiring a nurse to provide care for your loved one could be beneficial for both you and your spouse.
Keep company close by. You'll be able to avoid depression and feelings of loneliness if you keep company close by. Make phone calls. Plan outings with other people. Being surrounded by a support system can do a world of good.
Are you providing care for your spouse? If so, how have you handled transitioning into this role? Share your story in the comment section below, we'd love to hear from you!
Fall River Jewish Home is a skilled nursing and rehabilitation center that cares for residents and families of all faiths. Contact us today to see the options we have available, or give us a call at 508.679.6172.