Massachusetts Seniors Embrace Technology
Details

Published on Monday, 26 August 2013 07:00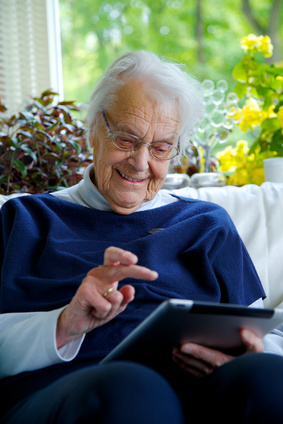 Have you text your Grandma today? A few years ago, people would have laughed at the idea. But this generation of seniors is embracing technology and social media, not running from it. From video games to iPads, older adults are one of the fastest growing technology demographic groups.
According to the Pew Internet and American Life Project,
older adults fall in to 3 categories when it comes to technology:
Older Boomers – those ages 55 to 64
The Silent Generation – ages 65 to 73
G.I. Generation – adults ages 74 and up
So what are they doing with technology? Their activities may surprise you:
All three groups use the internet and technology most for email and search. They use Google once a day on average.
Health Information research comes in at #3 for each of them. Surprisingly enough, it ranks just as high for Millennials. Those users who are ages 18 to 33.
For the Older Boomers and the Silent Generation, next up in terms of importance is news. They read their news online. That is 4th on the list for the G.I. Generation.
Interestingly enough for the G.I. Generation the #4 spot is Buying Products. They are researching and buying products online.
Travel, online banking and visiting government websites all make the top 10 for all 3 groups of older adults.
What has contributed to this surge in the use of technology by our seniors? Most experts believe it is the tablet and other mobile devices. They are easy for older adults to use.
Seniors and Social Media
Seniors are watching You Tube videos, Tweeting and logging on to Facebook on their iPads. And you've probably already heard the rumor. It's true. Facebook reports that older adults are the fastest growing segment of its users. The year over year growth for seniors in 2010 was 1448%!
What are they doing on Facebook? The same things as the rest of us:
40% are sharing stories and updates with friends and families
30% are sharing photos
20% are playing games
10% are entering contests and looking for coupons and promotions
And the bottom line is that all of this helps older adults boost their brain power. A key prevention practice in holding off Alzheimer's disease.
If you are planning your Christmas or Hanukah budget and aren't sure what to buy for your grandparents or aging parents this year, a tablet device might just be the answer.
We're here to answer questions and help you make the best decision for care for you or your loved one. We invite you to reach out and talk with one of our care specialists at Fall River Jewish Home today! CALL 1.508.679.6172, where assistance is just a phone call away.