Top 7 Caregiver Travel Tips When a Loved One Has Alzheimer's disease
Details

Published on Wednesday, 27 November 2013 20:15
The holiday season is upon us. For Massachusetts caregivers traveling with a loved one with dementia, planning ahead will give you peace of mind about the journey. Here are a few tips to help you get started: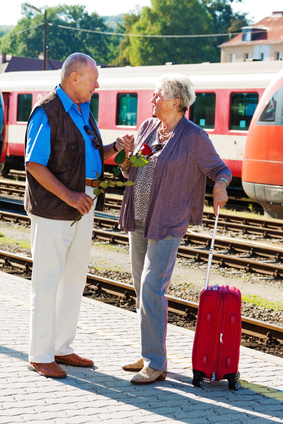 Pre-arrange your itinerary. That includes both your routes and your overnight stays. Try to establish a travel routine that takes in to consideration your loved ones best and worst times of day. If you know, for example, evenings often bring increased agitation try to be at your destination before then.
Create a medical file. It should include your family member's medical history, a list of their physicians and contact information for each, a list of medications and dosages, their insurance or Medicare information, and a list of allergies. If they have a power of attorney or a health care proxy, be sure to bring copies.
Emergency Contact Information. If your loved one's disease makes it difficult for them to verbalize important information, create emergency contact information cards. Put their name, your name and cell phone number, and contact information for one other family member on them. Put a few copies in your loved one's pockets and wallet. On the chance that you and your loved one may get separated, it will be easier for you to reconnect.
GSP tracking watch. Technology has made it much easier to reunite with lost loved ones. If you haven't taken advantage of any of the newer technologies, this might be the time to try one. Most have an initial upfront fee and then a monthly maintenance cost.
Safe Return Program. A Safe Return bracelet may be another option. Airports and rest stops along the turnpike can be busy places. It is easy to become separated. The bracelet has a phone number and identifying information to call should your loved one wander away. You can purchase one from The Alzheimer's Association.
Check in with family along the way. Keeping connected to family along the route is a good preventative measure. Agree to call at certain points along the route. Make sure that your loved ones are aware of your planned route, too. That way they will have an idea of where to begin searching if they can't get in touch with you.
Create an activity box. Sitting in the car all day may be difficult for someone with Alzheimer' disease who is used to pacing around the house. To keep their mind and hands occupied, create an activity box. You could include items to sort (i.e. poker chips), playing cards, family photos and more.
Have you traveled with a loved one who lives with dementia in past holidays?
What was the greatest challenge for you?