Have You Considered a Respite Stay?
Details

Published on Tuesday, 07 July 2015 19:19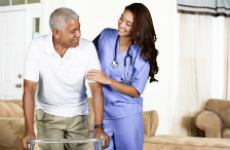 By speaking with a family caregiver, you can learn fairly quickly how difficult it can be caring for a loved one on a full-time basis. This role can be consistently challenging regardless if you are caring for your 90 year-old, wheelchair-bound parent or your spouse who is suffering with Alzheimer's disease. Many caregivers opt for in-home care or search for assisted living options in Massachusetts. However, have you ever thought about respite care?
What Is Respite Care?
Respite care offers accommodations for a loved one on a short-term basis in a facility located outside the home. It offers the caregiver a break from the everyday care routine and allows them to enjoy some down time while their loved one continues to get the quality care they need.
Statistics from the Center for Disease Control find that a huge toll is paid by the caregiver for the labor of love they put into caring for a friend or family member. These statistics show that:
35 percent of caregivers are finding it a challenge to get alone time.
29 percent suffer from both physical and emotional stress.
53 percent has claimed their health is suffering from caregiving and has had an impact on how they are able to provide care.
29 percent find it challenging to balance family responsibilities and work.
Giving the Caregiver a Break
As a caregiver, you do deserve to take a break every once and a while. It is a demanding job having to care for someone full-time and by looking into respite care services, you are not letting your loved one down.
In fact, you are actually putting them in capable hands that will give them the best possible care during their stay. You'll get some alone time for relaxing and taking care of yourself, and they will continue to get quality care and be able to socialize and make friends with other guests in a controlled adult day care atmosphere.
Respite care can help you in times when you might be experiencing emotions such as:
Isolation
Exhaustion
Loneliness
Guilt
Things to Keep in Mind When Considering Respite Care
Get Your Loved Ones Involved
As you would before placing a loved one into an adult day care or another facility in Massachusetts, you should involve your loved ones in your plans for respite care. Talk with them about the length of time you plan on being away and who they can expect to help with their care while you are gone.
Assess your Needs
Come up with a list of what's needed to properly care for your loved one during your absence. Decide which type of special training or skills will be needed by the respite care provider to properly care for your loved one.
Get Organized
You can look for online tools like CarePages or Lotsa Helping Hands or use a calendar for tracking appointments. Book some alone time on your calendar.
Instead of burning yourself out with the caregiver job or having to place your loved one into an adult day care in Fall River, you should consider respite care. It only takes a quick call to us here at Fall River Jewish Home at 508.679.6172 to get the ball rolling on setting up respite care options for your loved one. We'll ensure the process goes as smoothly as possible.